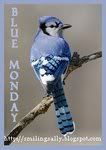 It's been a month since I last run....and I am missing it. This is why I don't like rainy season, I don't get to go out much....sigh! So for
Blue Monday
I feature photos from the last fun run I attended. It's the Robinson's Fit and Fun Wellness Buddy Run held last August 10 at Bonifacio Global City. It's a buddy run, meaning you and your partner need to run the length of the race together. I have with me my good friend Tinay.
It's a rainy 5K run. But we don't mind the rain (or our shoes becoming heavy because it's wet). We had fun talking about everything, taking every photo opportunity we have and making fun of ourselves whenever we stop and walk instead. We finished at 51 minutes mark. Well, that is my time. My buddy can do it a lot better but she adjusted for me since I'm a slowpoke.
1K more
This is the most fun run I ever attended. Not just because you get to run with a friend, the event was well organized. And there are dozens of booths that's giving away free foods and stuff. From hotdogs, ham, sandwiches and oat meals to ice cream and fruits. There are different kinds of drinks too. From milk, chocolate drinks and fruit juices to different types of energy drinks. I'm sorry there's no pictures of the food. Too busy eating.
behind the crowd are the booths
the stage where they announced the winners
I had a photo op with our local celebrity Kuya Kim.
And you know what's the best part of this event? The loots! They gave away a bag-full of groceries.
here are the contents of my lootbag
and I have an extra gift from Adidas
I really miss running. Hope that I find time soon to run again.